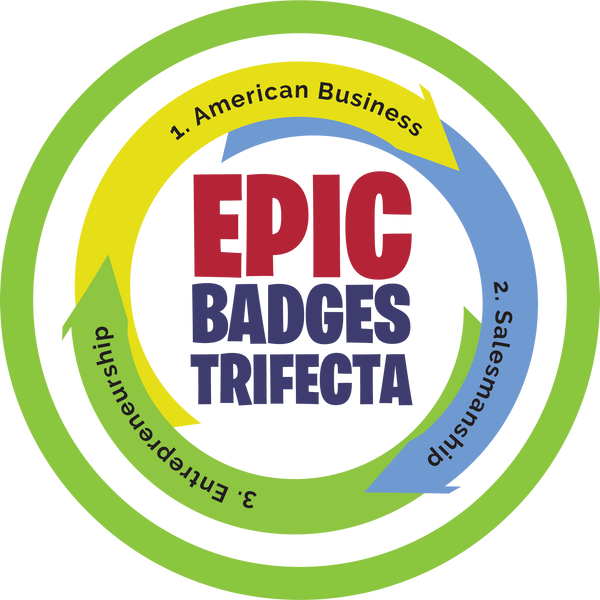 The Business TRIFECTA (3 Collective Badges)
The mission of THE Business TRIFECTA is to earn American Business, Entrepreneurship, and Salesmanship Merit Badges in a 30 - Day Timespan. We believe taking these three courses collectively and in this order will provide you with the most beneficial knowledge, wisdom and real-life experiences of being an American Entrepreneur and Business Owner.

Combinations of three classes
Those willing to take on THE Business TRIFECTA choose to enter a Challenge provided only by our Epic Badge Team.
The Price is right. Receive a discounted rate when buying THE Business TRIFECTA!

*Upon Purchase, you will receive a TRIFECTA code which will allow you to pick and choose any date/time these 3 courses are being offered. Business TRIFECTA Courses are available twice a week and classes will continue for a minimum of 45 days after your purchase.
Join the Epic TRIFECTA Tribe and represent your Troop and Council across the country!
Online Badges are Open to all registered BSA Scouts. Please read the description before registering.
You will need a laptop or desktop computer, high-speed internet access, a web camera, and a microphone to participate in the online course.

Classes are taught online via ZOOM.us

If you are new to using ZOOM Video please CLICK HERE for instructions & tutorial.

Class Instructions: See details below.
Pre-Requisites - Preparation is a MUST


Badge Pamphlet – reviewing prior to attending and completing pre-course work will ensure that you receive the most out of the Online Class. The Badge Pamphlet is full of information and will help you successfully answer the questions. It provides solutions and gives direction on where to find the answers to earn this Badge. You may also use online and other resources to complete the requirements where appropriate.
It is unacceptable to come unprepared. You should DOWNLOAD and COMPLETE the Fillable Badge Workbooks for each course to help you be organized and prepared. The use of any workbook for note-taking, reference, or the completion of the workbook does not warrant, guarantee, or confirm your earning of the Badge requirements.

Blue Card properly filled out and signed off by your Unit Leader. Note: If you are not able to get your Unit Leader's signature PRIOR you may still participate in the Online Course. We recommend that you notify your Unit Leader that you are taking the class.
Class Instructions

You will be sent a Meeting ID and Password the day before your class to the email address you registered with.
Test ZOOM at least one day prior to class.
On the class day log-in at least 10 minutes before your scheduled class time.
Class A Uniform is required to be worn during this Online Badge Course.
Badge Fillable Blue Card properly filled out and signed off by your Scoutmaster
Badge Pamphlet

Supporting documentation of project work pertinent to this badge which may also include a Badge Workbook for reference with notes.

A Positive Scouting Focus and Attitude!

You will be sent a link to UPLOAD your completed Blue Card and Workbook FOLLOWING the class. To have the opportunity to earn a completion for the Badge you MUST upload these completed documents following the class.
Loading
Loading